Introducing MS1, our New Mobile Studio Vehicle based in the San Francisco Bay area and able to travel anywhere in Northern California! We are available for assignment anytime, 24/7/365, and able to drive to the guest's preferred location with sufficient notice.
This advanced, custom designed mobile studio offers connectivity via LiveU, TVU or Haivision with video and/or Teleprompter return available. Wi-Fi connectivity available via Peplink mobile router. IFB/PL through two cellular phones, two VOIP phones or LiveU/TVU IFB feed back circuits.
Designed and equipped with all the amenities necessary for the on-air guests' comfort and convenience. Our workspace is large enough to accommodate a make-up artist* and one or two guests sitting side by side, with multiple day or night backgrounds available on our 75" BKG Monitor.
MS1 is powered with 19,000 watt hours of battery capacity and 18,000 BTU's of air conditioning!
*Licensed, professional make-up artists available upon request.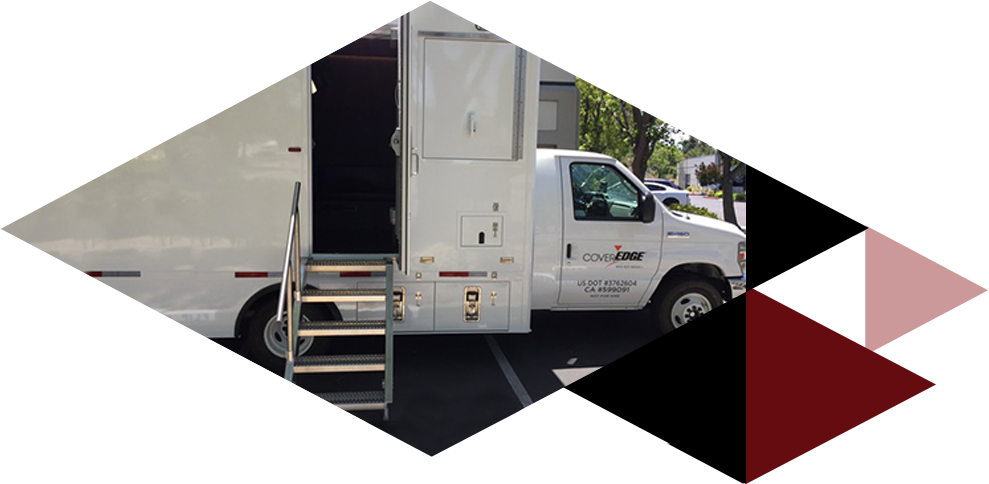 Servicing up to 150 miles from 1067 Serpentine Ln., Pleasanton, CA.
San Jose Airport – 26 miles/30 min.
Palo Alto – 34 miles/37 min.
Livermore – 8 miles/15 min.
Dublin – 5 miles/10 min.
Hayward – 14 miles/20 min.
Oakland Int. Airport – 21 miles/26 min.
San Francisco Airport – 40 miles/50 min.
Berkeley – 31 miles/ 39 min.
Walnut Creek – 22 miles/26 min.
Concord – 27 miles/33 min.
Santa Clara – 29 miles/35 min.
Fremont – 14 miles/20 min.
Blackhawk – 16 miles/25 min.